Foundation, team expansion and new funding – an eventful time lies behind the AI startup ai.dopt. In an interview with André Bluhm, Max Hamscher, Fabrizio Ronca and Martina Schuster, we review the past months.
Before we talk about recent developments, can you briefly describe what solution ai.dopt offers in the field of artificial intelligence?
Artificial intelligence (AI) holds enormous potential to change the way we work and do business. But implementing AI projects is challenging – especially for small and medium-sized enterprises (SMEs). In addition to financial and human resources, there is often a lack of expertise in topics such as IT security and data protection. We offer easy and secure access to AI-powered value creation for all companies. Our software solution enables the secure application of artificial intelligence – without prior knowledge and with just a few clicks. This means that the existing expert knowledge in the company, e.g. on existing data, can be used efficiently and in a way that adds value.
You all originally come from southern Germany. How did you end up in the Ruhr area and at the Ruhr-Universität?
As a team, we have known each other for a very long time and very well, as we already worked together in different constellations before ai.dopt. The idea to found ai.dopt came up during a phase in which we were all busy with our master's or doctoral theses. During this time, the Ruhr University Bochum with the start-up center of the World Factory Bochum was also recommended to us by the start-up we were friends with – Lidrotec GmbH. As a team, we were open to which city we would go to, so we evaluated Bochum as the perfect location for us in the field of IT security. In October 2021, we received funding of € 240,000 through the "Start-up Transfer.NRW" funding program and were able to start as part of the "Pandia" research project with Prof. Dr. Thorsten Berger at the Faculty of Computer Science at Ruhr University Bochum.
How would you rate your time at the RUB?
As a complete success. Here we designed and developed a prototype. We were also able to win our first customers and development partners. At the same time, the RUB with its ecosystem and the institutions located here, such as the Horst Görtz Institute, the Max Planck Institute, and the cybersecurity incubator Cube 5, were important points of contact for us when it came to starting up. Last April, ai.dopt GmbH was founded as a research spin-off from the Faculty of Computer Science at Ruhr-Universität Bochum, which has already created 10 jobs.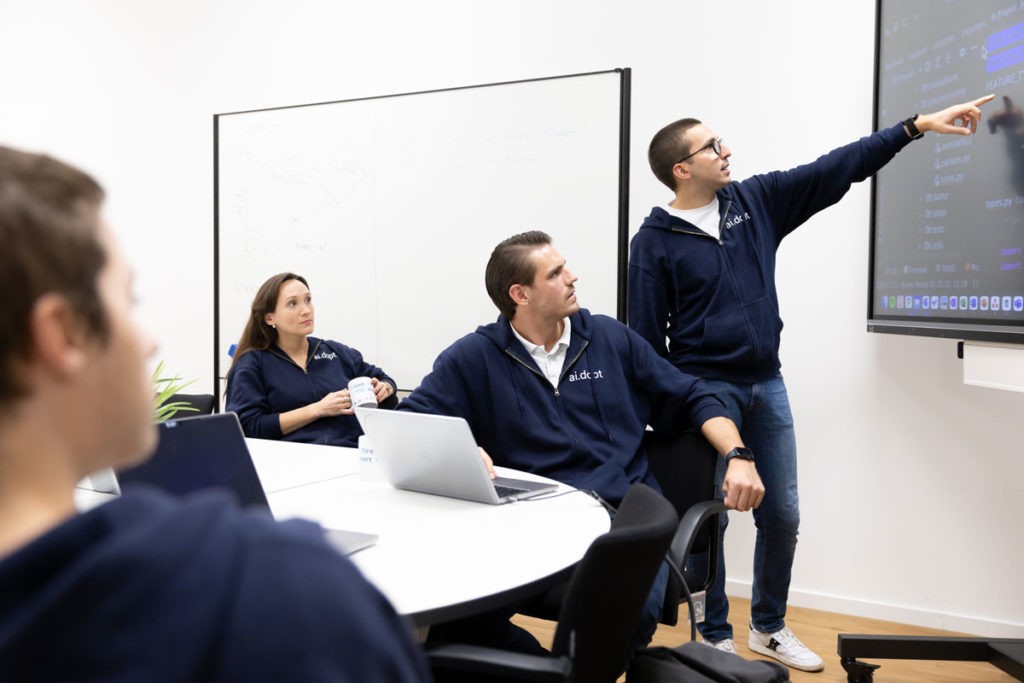 How did you get to know Bochum and its ecosystem?
The open-mindedness, sociability and down-to-earthness that is said to characterize the people in the Ruhr region is something we have definitely encountered here right from the start. We benefit greatly from the contacts and networks that have opened up for us in the past year.
Where do you currently stand?
At the moment, our focus is on testing the software with various development partners from research and pilot customers from industry. In October, we were able to acquire a grant of € 737,000 through the StartUpSecure program of the German Federal Ministry of Education and Research (BMBF), which was another important milestone for us.
What's next for you?
We will definitely remain loyal to Bochum. In addition to the funding from the StartUpSecure program, the Bochum Economic Development Agency has accepted us into the Startup Incubator WERK X. Here we receive funding of another € 33,000 and new great office space in the middle of Bochum's city center. On this basis, we can now further expand our team. To this end, we are also looking for students as interns or working students – of course also from the RUB.
---